My Experience at Confluent's Current 2023 Conference
Aristatle Subramaniam, Lead Data Engineer, recounts his enriching experience as a speaker and attendee.
I recently had the privilege of presenting at the Confluent Current conference in San Jose, California, and I'm excited to recount my enriching experience.
More from the Data Team: What BigCommerce Has Been Doing with AI
Confluent Current 2023 was a captivating convergence of minds, where the latest trends and breakthroughs in data streaming, analytics, and Kafka technology took center stage. In this post, I'm thrilled to share my journey at the event, including the invaluable knowledge, experiences, and connections I gained along the way. Plus, you'll get a peek at the memorable moments I captured with my camera.
What Happened at Current 2023
Sessions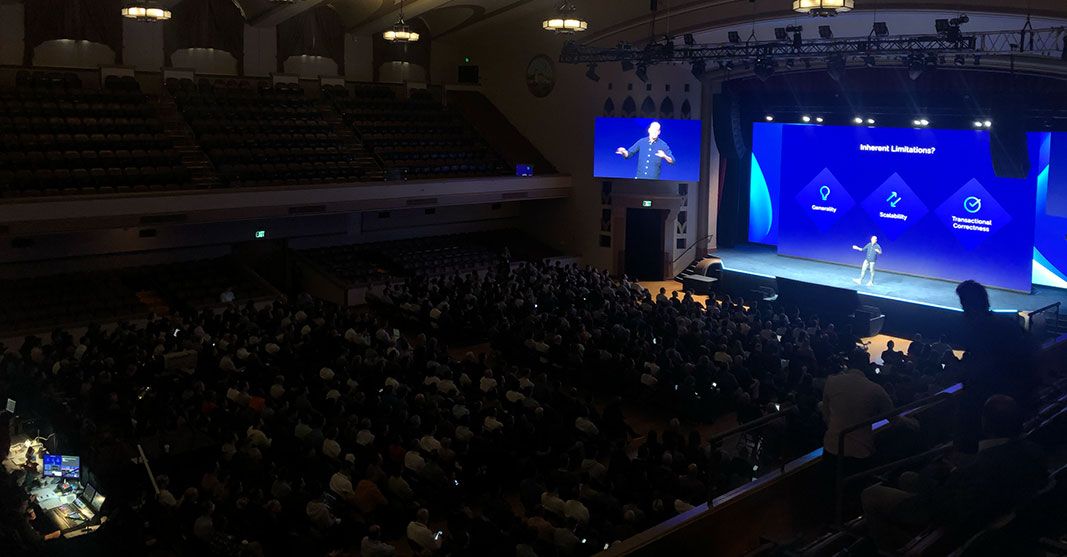 The Current 2023 conference's packed agenda focused on a wide range of topics, including Flink, stream processing, fast data stores, Confluent Kafka, connectors, streaming SQL, Kafka performance, Data Mesh, Pulsar, and more. The depth of knowledge shared by experts was truly impressive, and their innovative problem-solving approaches were captivating. Here are a few takeaways:
1. Tim Berglund emphasized the significance of analytics for end-users and showcased the rapid ingestion of streaming data via Apache Kafka into Pinot, delivering lightning-fast results.

2. A panel discussion, moderated by Danica, delved into the strengths and weaknesses of various stream processing technologies, such as Apache Kafka Streams, Apache Flink, Apache Spark, and Apache Pulsar.

3. Notable insights emerged from the sessions on building real-time applications with Apache Kafka, Flink, and Druid, presented by Kai Waehner and Gian Merlino.
Sponsors' Booths
The conference featured an impressive lineup of sponsors and exhibitors, including DeltaStream, Elastic, StarTree, Nstream, StreamNative, Redpanda, AWS, Cloudera, Decodable, Rockset, Imply, Datadog, RisingWave Labs, and much more. Their contributions added tremendous value to the event.
Recent Article: Why Datadog Is Our Web Team's Best Friend
Parties
The social gatherings were a highlight of the conference. The Speaker Welcome Reception provided a fantastic opportunity to connect with fellow speakers, learn about their topics, companies, and the challenges they've tackled.
San Pedro Square Market offered a culinary adventure with an array of gourmet food vendors who provided an array of gourmet food like crab cakes, fried fish, ice creams, and even live music.
Top Golf also provided an enjoyable golfing experience that added a unique dimension to the event. I must admit that my initial swings were more reminiscent of a frenzied game of 'Whack-a-Mole' with the ball, but I eventually found my groove!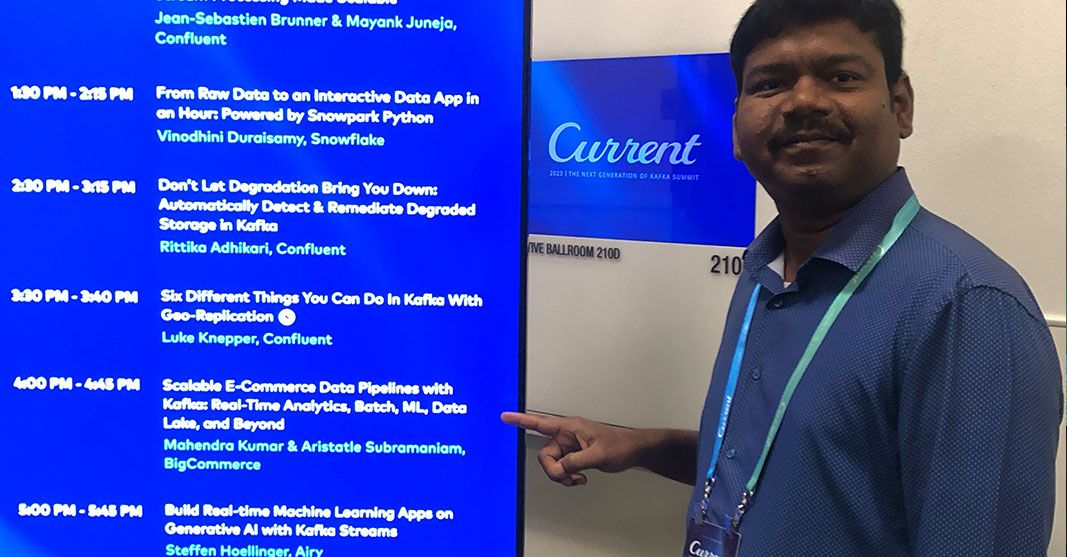 At the conference, I had the opportunity to deliver my breakout session, 'Scalable E-Commerce Data Pipelines with Kafka: Real-Time Analytics, Batch, ML, Data Lake, and Beyond,' which was a rewarding opportunity to share insights and experiences. In addition, I hosted a casual Birds of a Feather ession during lunch, where we delved into the intriguing topic of 'Building Data Pipelines with Kafka Connect'.
Related Article: Use of Kafka and Kafka Streams at BigCommerce
You can check out my breakout session by visiting the session page, or you can see the slides I presented. Please note that you may need to register in order to watch the recording.
I'd like to extend a heartfelt thank you to the Confluent Program Committee for their meticulous organization and orchestration of this wonderful event. Their dedication and hard work were evident in every aspect of the conference.
A special appreciation goes out to BigCommerce for their exceptional work in building a remarkable data platform and products.
Lastly, my heartfelt thanks goes out to my co-speaker and leader, Mahendra Kumar, whose guidance and collaboration greatly contributed to the success of our session at Confluent Current 2023.
Open Roles: Explore Your Next Engineering Opportunity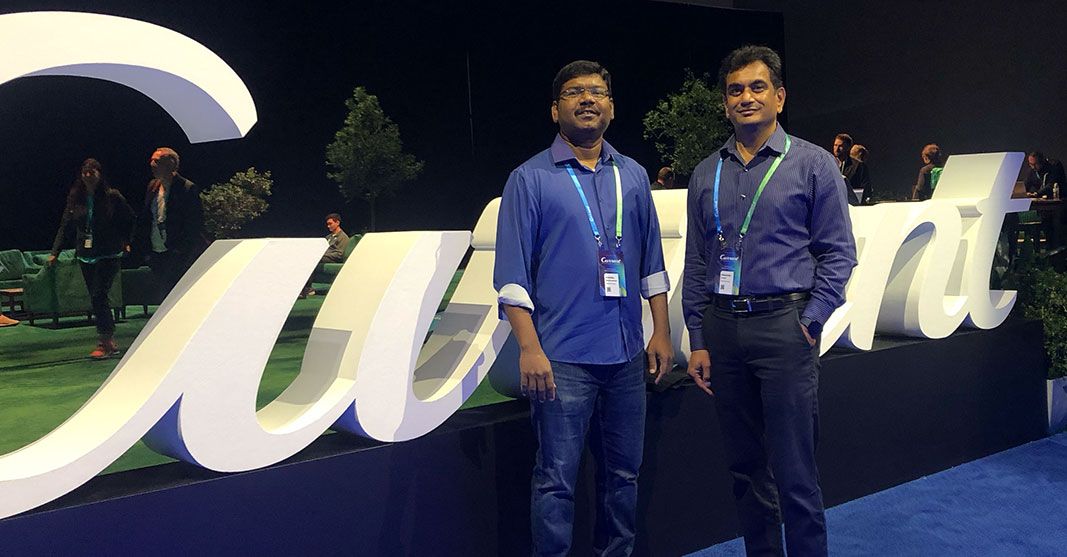 It was a truly enlightening experience at the Confluent Current 2023 conference, and I look forward to more opportunities to connect, learn, and contribute to the ever-evolving world of data and technology. 🚀