Meet 2022's TechWomen Emerging Leaders
BigCommerce has participated in TechWomen since 2015. In 2022, we hosted our biggest cohort of five women.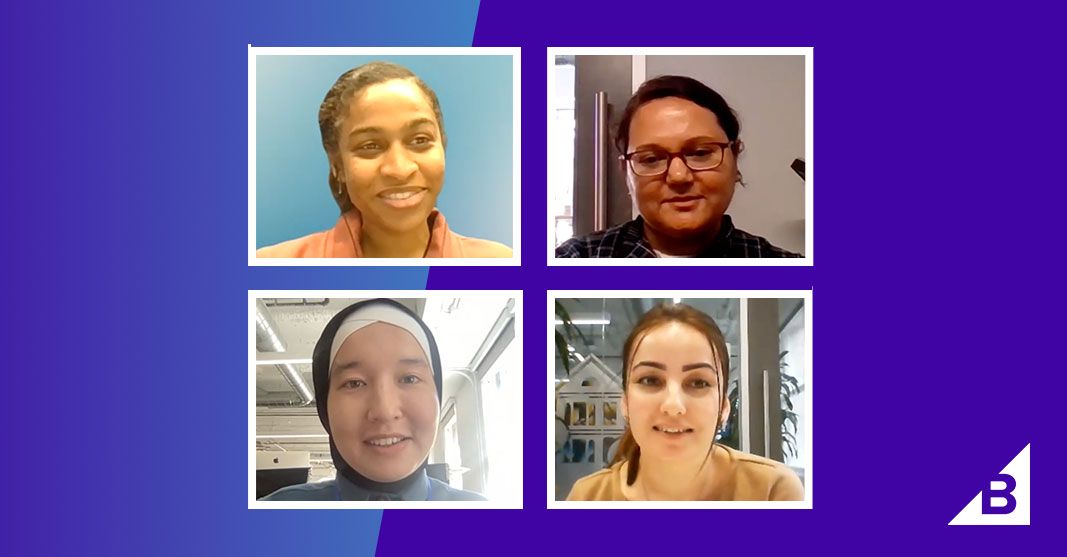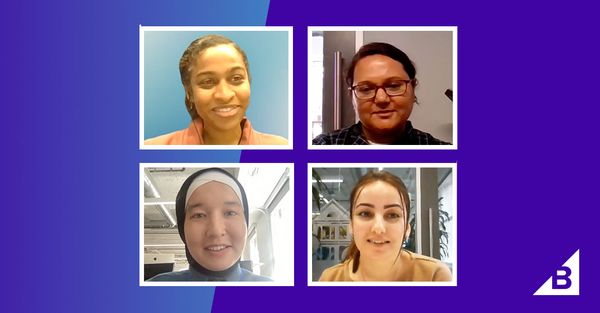 In March 2022, BigCommerce's San Francisco office hosted Emerging Leaders from the Spring 2022 TechWomen cohort.
Related Post: Meg Desko Interviews Judith Dietz for Women's History Month
TechWomen is an exchange program sponsored by the U.S. Department of State Bureau of Educational and Cultural Affairs. The program brings more than 100 professional women working in STEM (Science, Technology, Engineering, and Mathematics) fields from Northern and Sub-Saharan Africa, the Middle East, and Central Asia to the San Francisco Bay Area for mentorships hosted at local companies to help them level up in their careers.
BigCommerce has participated in TechWomen since 2015; in 2022, we hosted our biggest cohort of five women: Henrica Makulu from Zimbabwe, Abir Raza from Pakistan, Khojarbu Khaitmetova from Uzbekistan, Lola Pallaeva from Tajikistan, and Bara El Masri from Jordan.
Related Post: International Women in Tech Visit BigCommerce
This year's mentorship was hybrid, with the Emerging Leaders spending one day in the BigCommerce office per week and joining meetings the rest of the week from their lodgings, coffee shops, and even Muni buses!  They met with their mentors and folks from across BigCommerce, from Tier 1 support folks, to Engineering Managers, to sales and marketing experts, and several of our C-suite executives.
As part of our BEmpowered (women's employee resource group) celebration of Women's History Month in March, I was delighted to moderate a panel discussion with four of our Emerging Leaders to learn more about the TechWomen program, their journeys, and what they learned during their time at BigCommerce.
Meet the TechWomen

Henrica Makulu

I'm Henrica from Zimbabwe in southern Africa, and I am a data scientist who is looking to move from building analytics dashboards into predictive modeling and machine learning. I'm so excited to be part of the BigCommerce family for such a short time. Already I'm just seeing how the BigCommerce values align with my personal values: making a difference every day and having integrity.
Connect with Henrica on LinkedIn
Learn More about Henrica on Her Website
Abir Raza

I'm Abir from Pakistan. I basically look after business incubations and mostly tech-based startups that come from the students. I work at a very research intensive university in the capital city of the country. Alongside, I'm doing my PhD in informatics and computing, and I've got 12 years experience. I have worked on multi-faceted domains.
Khojarbu Khaitmetova

My name is Khojarbu. I'm from Uzbekistan, Central Asia. I'm a software engineer. I work for EPAM Systems Company. I started from front-end development like HTML, CSS, and JavaScript. Then I moved to backend, and currently, I'm doing mostly backend development. I have my Bachelor's degree from Westminster International University in Tashkent.
Lola Pallaeva

I'm Lola from Tajikistan. Today, I'm in the TechWomen program because I want to change my career path, and it is the fourth time when I want to change my career path. The first time was when I graduated from [Tajikistan] State University. I worked as a math teacher at this University. After that, I worked at non-government[al] organization as an account[ant], and after that, I got married and moved to the capital. Till now, I work at a telecommunications firm as an engineer. Now, I want to create my own business.
Get to Know these TechWomen

What inspired or motivated you to pursue a career in tech?

Khojarbu Khaitmetova: I wanted to do something different. I like learning, and IT was one of the top industries that involved both of them. It enables us to be creative. We can create something. This is a very enjoyable feeling to see our results.
What are some of the challenges you've faced in your journey so far?

Abir Raza: I belong to a very patriarchal society, so it was really very hard for me to prove myself as a woman or at my workplace. I'm the only [female] general manager in my department and in the whole university. I was the first one who got promoted to a C-level position, so it was very difficult for the people to digest that a lady is coming up to the C-level position. And she will be dictating to us, or she will be instructing us to do so many things.
What inspired each of you to apply to the TechWomen program?

Henrica Makulu: The fourth time I tried, which is 2021, I finally made it. I think it was actually, looking back, a good thing because I now have direction in my career. I know exactly what I can gain from this program. I'm one of the first female data scientists in my country, and one of my goals was to benchmark myself against data scientists in America or globally.
What do you think the main differences are between tech companies in the US and tech companies in your home country?

Khojarbu Khaitmetova: Local companies--As soon as their positions start rising, it will be difficult to reach people from bottom positions to higher positions, but here, this is a horizontal way of culture. You can approach anyone, and all of them are friendly. They are open to share their own experiences. They are always open to give advice.
Have you learned any one or two things that really stand out to you or had any sort of aha moments?

Lola Pallaeva: I'm so inspired by BigCommerce teams, and also, I had a meeting with some people who is [are] selling their product. Their selling is not connected to BigCommerce. Even they told me about your team and that BigCommerce is a very friendship team. I got a lot of experience here, and I assure you that I will bring it to my home country.
What are your impressions of BigCommerce so far?

Abir Raza: It's very exciting to see that there's a flat or a horizontal hierarchy being followed in BigCommerce. Everyone is so welcoming. Everyone is accessible, and you can reach out to them for any questions, theories, or anything. This is the most exciting thing that I love about BigCommerce.
Job Openings: Browse our Engineering Team's Current Opportunities
What will you bring home with you from this experience?

Henrica Makulu: I feel so grateful that if I ever face an infrastructure problem, I can phone Josh and be like, "Hey Josh. Have you ever dealt with this tool, or what tool do you suggest for this?" Or if I need to build my personal brand, I can call Grace and be like, "Hey Grace. I need a bit of help." I really feel like I've gained networks and family and future friends.
What are your plans for after you go home from TechWomen?

Lola Pallaeva: First will be that I want to spend business training with women in my surroundings. Most girls in our country get married early at about 18 years old. When they deliver the baby, they can't work. It's easy for me to teach them skills and to sell their products online.
---
Being a TechWomen mentor is always one of the highlights of my year, and I'm so pleased BigCommerce was able to participate this year.  We look forward to seeing what our Emerging Leaders will accomplish after going home!
---
More Interviews